Copyright 2021 MULE Engineering, Inc. - All Rights Reserved


Hunter Army Airfield Hanger 7902 Renovation

MULE was awarded a Firm-Fixed Price Project at Hunter Army Airfield to renovate an existing Hanger used by an Aviation Battalion. The scope of work included enclosing the existing covered storage area, of 9,678 square feet and constructing an addition of 3,800 square feet with an eave height of 19 feet. The project included site work, concrete demolition and addition of new concrete footings. Also, the new addition had integrated HVAC, electrical, and fire protection with sensors/suppression systems. Overhead doors, force-protection bollards, lighting, and data/telephone wiring were all included in the new structure.


Veterans Administration Regional Office Building - 3rd Floor Service Center

Renovation of approximately 38,500 square feet at the Saint Petersburg FL Regional Office - Third Floor Service Center. Work includes demolition of walls, removal of carpet, painting, trim work, and construction and finish of office space.Other work includes disconnect/re-connect all heating, ventilation and air conditioning (HVAC) as required as well as the construction of the offices for the new VSC Front Office. Communications work includes removal of existing carpet and old CATV cable, installation of new CAT VI cable, new carpet, and placement of electric/data receptacles.

Central Utility Plant (CUP) - Structural & Architectural Package
MULE worked with a large Engineering Firm to build a new office complex with three separate buildings for a large Aerospace Contractor on the east coast. This new facility provides a new Center of Excellence in the area, providing space for an additional 1,900 personnel in the Melbourne area.

MULE's portion of this project was the shell for the 12700 sf Central Utility Plant, CUP. The CUP was a mechanical utility plant that will hold three cooling towers equaling 1200 tons along with the equipment to generate chilled water for two buildings being constructed with a total square footage of 500,000 sq ft. The project was built for a large Aerospace Contractor in Melbourne FL. MULE is building the foundations, slabs, structural steel, roofing, interior finishes, paint, caulking, waterproofing, and a hurricane louver system. The project was accelerated with extremely aggressive milestones.
VA Lake Baldwin Medical Center - Roofing and Flooring

MULE Engineering & Construction removed the existing roof and laid new torch applied modified bitumen roof on buildings 504 and 519a at the Orlando VA Medical Center. Tapered insulation and manufacturer flashing and accessories were installed, and all roof penetrations addressed. The lightning protection system for building 504 was upgraded in accordance with Florida Building Code, NFPA and IEEE standards. To avoid disrupting the employees with project noise and odor, the project was completed during off-hours, and a snorkel was built on the roof air intake to funnel clean air to the building and prevent noxious air from entering the building. In addition, new heavy duty rubber stair treads were installed in all the medical center stairways and new commercial vinyl composite tile laid in at each landing. The stairwell and landings were completed during WHEN hours to limit impact on patients and employees, and Class II infection control measures were employed to mitigate any fugitive dust and debris. Strict interim life safety measures were followed during each work shift to avoid any impedance of fire-related egress, and maintain all fire-safety features. Waste management practices were employed outside the buildings to minimize spillage and reduce egress barriers, and inside the medical center to minimize fugitive dust through tightly contained trash and clean trash transport.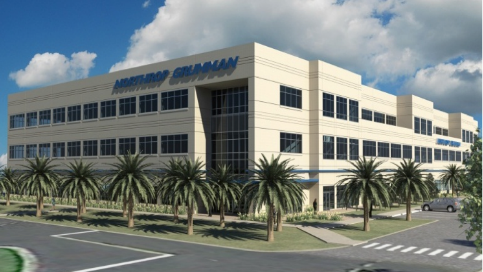 Location: Melbourne, FL
Size: 500,000 sq ft.
Client: Northrop Grumman

Location: Orlando, FL
Size: 48,000 sq ft.
Client: Department of Veterans Affairs

Location: Savannah, GA
Size: 13,478 sq ft.
Client: US Army- Mission Installation Contracting Command - Hunter Army Airfield- 160th Special Operations Aviation Regiment

Location: St. Petersburg, FL
Size: 38,500 sq ft.
Client: The Department of Veterans Affairs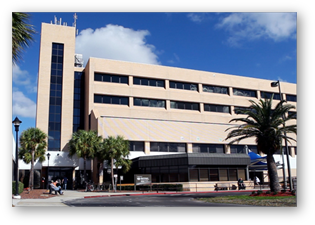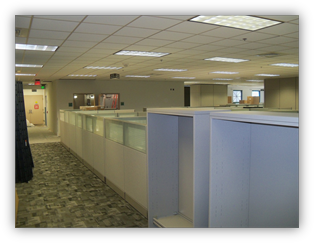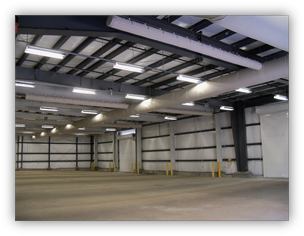 Robins Air Force Base Building 180
MULE renovated 43,150 sf, of a steel frame and metal panel clad structure. Addition to west side of Bldg 180 with renovation of northwest portion of the building. Construction of change rooms, locker rooms, toilets, support spaces and supporting HVAC and electrical systems.

The remainder of the project involved the near complete demolition and rebuilding of interior spaces at the existing ancillary spaces of the facility. This renovation houses lockers, showers, restrooms, and break and a conference room. New electrical and telecommunication rooms were added, as well as a canopy for the east-side exit. In addition to new HVAC, the existing heat exchanger was replaced. Flooring will include epoxy, VCT and carpet. New doors, door frames and hardware; ACT ceilings; bathroom and breakroom cabinetry; solid surfaces for baths and breakroom; and paint throughout.


Location: Robins Air Force Base, GA
Size: 43,150 sq ft.
Client: Robins Air Force Base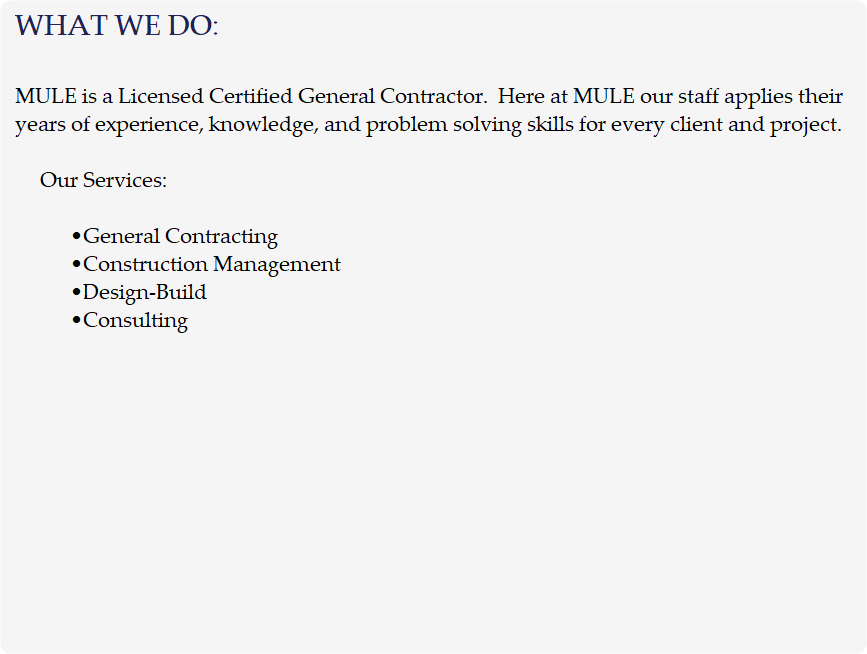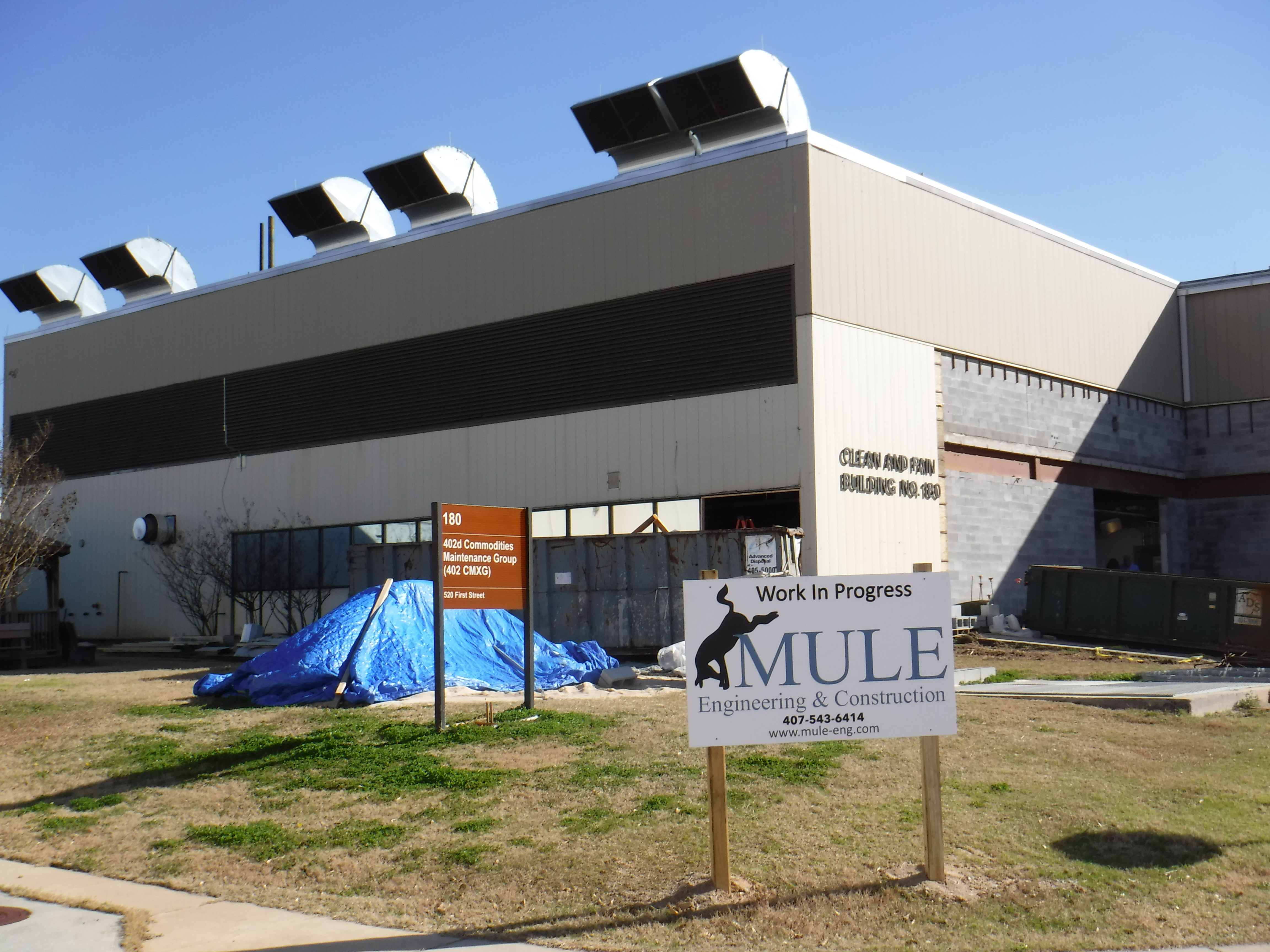 Robins Air Force Base Building 673 - Repair/Renovate Interior
MULE completed a design-build renovation of the north wing of Bldg 673 to include: complete re-roof with change in pitch of roof to match the south wing; complete demolition and replacement of metal wall panels and insulation; structural steel changes to the north end wall to accommodate a new, larger overhead coiling door; expansion of existing vehicle ramps to accommodate larger vehicles and loads; extension of the existing sanitary sewer manhole; new lightning protection system for the entire building, canopy and CO2 tower; construction of two new CMU rooms (PPE and Locker) within the building; significant upgrade of electrical service to include more than doubling capacity of transformer, new interior building transformer, new service and distribution panel and subpanels, new lighting and fire alarm for entire structure; extension of fire suppression system for new sanding booth; new HVAC for the north wing and the new PPE and Locker Room; plumbing for new eyewash station and PPE room sinks; new steel railings and bollards; interior and exterior paint (new and refinishing). Heavy metals were detected during design and remediation of the interior will be completed prior to the start of construction.


Location: Robins Air Force Base, GA
Size:
Client: Robins Air Force Base



Northrop Grumman Building 230
MULE worked with JACOBS to build a new office complex with three separate buildings for Northrop Grumman. This new facility will provide a new Center of Excellence in the area, providing space for an additional 1,900 personnel in the Melbourne area. Building 230 is a three story with penthouse 267,000 square foot structure that will house personnel involved with engineering, design and production of new aerospace contracts for Northrop Grumman. MULE's portion of the Building 230 project included all interior and exterior painted surfaces, all interior joints caulked and sealed, all interior joints and penetrations fire-stopped, two loading docks/control assemblies at the truck unloading platform, a Laser Room, and Back Painted Glass. The entire Design-Build project was on an extremely accelerated schedule. The customer wanted to utilize the entire complex within a 12 month timeframe.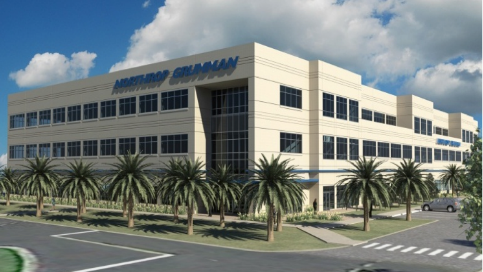 Location: Melbourne, FL
Size: 267,000 sq ft.
Client: Northrop Grumman

Location: Orlando, Florida
Size:
Client: GOAA/OIA

GOAA (Greater Orlando Aviation Authority) Structural Steel Package

GOAA (Greater Orlando Aviation Authority) Doors, Frames, and Hardware Package
VA Bay Pines Sewer Lift Station
Location: Bay Pines, Florida
Size:
Client: The Department of Veterans Affairs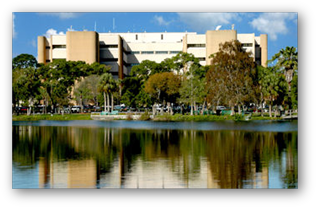 VA Address Physical Securities
Location: VA Lake Nona, Lake Baldwin, Lakemont, and Viera facilities
Size:
Client: The Department of Veterans Affairs


MULE fabricated and installed the structural steel and miscellaneous metals for the Central Energy Plant and Emergency Power Generation buildings at the Orlando International Airport, Terminal C Landside Project.


MULE will procure the frames and procure and install the doors and hardware for the Orlando International Airport, Terminal C Airside Project.


MULE designed, procured, and installed a new sewer lift system with in-line comminutor pump to service Building 102 at the Bay Pines VA Medical Center.
MULE designed and installed new physical security upgrades at four different VA facilities; Lake Nona, Lake Baldwin, Lakemont, and Viera.

A Service Disabled Veteran-Owned Small Business (SDVOSB)
Minority-owned Business Enterprise in Orlando, FL (MBE)
Disadvantaged Business Enterprise (DBE)
MULE will complete the installation of backboard for the Landside portion of the new Terminal C at the Orlando International Airport.
Patrick AFB - HVAC Youth Center
MULE is currently expanding Building 3656 at Patrick AFB Youth Center with the intent to expand the HVAC system components for the building. This expansion will provide an much larger mechanical room which will house a new chiller and consist of all structural and architectural components of expanding the building. This includes, but is not limited to, concrete, masonry, stucco, steel, and roofing. The expansion must match the existing finishes and function of the building. The mechanical replacements in the building also consist of air handling units (AHUs) and associated controls in four (4) mechanical rooms, chilled water pumps, condenser water pump, hot and cold piping, exhaust fans, and cooling tower and refrigerant monitor with exhaust fan and makeup air louver.
Location: Patrick AFB, Florida
Size:
Client: U.S. Air Force